Registration Opens for DigiPal V: The Phantom Minuscule
Date: Wednesday 2nd September 2015
Time: 9.30am-6pm
Venue: Nash Lecture Theatre (K2.31), King's College London, Strand WC2R 2LS
Co-sponsors: Models of Authority and Centre for Late Antique & Medieval Studies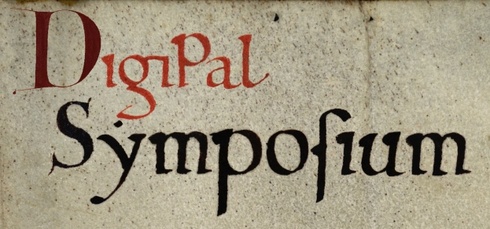 It is with great delight that the DigiPal team at the Department of Digital Humanities (King's College London) announce the draft line-up for the fifth DigiPal Symposium (see below). As usual, the focus of the Symposium will be the computer-assisted study of medieval handwriting and manuscripts. In addition, there will be pedagogy through computer gaming, crowdsourcing Ælfric, image processing, ontology-based encyclopedias, codicology, Scottish charters and, it goes without saying, but we're saying it anyway... palaeography!
Registration is free and includes refreshments and sandwiches. Judging by previous experience, places will disappear as rapidly as things that disappear rapidly, so please register immédiatement (or "sona" as we say in Old English). It's easy: just sign-up with Eventbrite.
Very much looking forward to seeing you in September,
Stewart and Peter
Confirmed speakers include:
Ben Albritton (Stanford): "Digital Abundance, or: What Do We Do with All this Stuff?"
Francisco J. Álvarez López (Exeter/King's College London): "Scribal Collaboration and Interaction in Exon Domesday: A DigiPal Approach"
Stewart Brookes (King's College London): "Charters, Text and Cursivity: Extending DigiPal's Framework for Models of Authority"
Ainoa Castro Correa (King's College London): "VisigothicPal: The Quest Against Nonsense"
Arianna Ciula (Roehampton): Closing Round Table 
Orietta Da Rold (Cambridge): "'I pray you that I may have paupir, penne, and inke': Writing on Paper in the Late Medieval Period"
Christina Duffy (British Library): "Effortless Image Processing: How to Get the Most Out of your Digital Assets with ImageJ"
David Johnson (Florida State University): "Tracking the Tremulous Hand: Visualizing the Paleography of Punctuation"
Kathryn Lowe (Glasgow): "Crowdsourcing the Medieval"
Suzanne Paul (Cambridge University Library): "Teaching Palaeography via the Medium of MOOC"
Peter Stokes (King's College London): Closing Round Table 
Dominique Stutzmann (Institut de recherche et d'histoire des textes): Closing Round Table 
Maayan Zhitomirsky-Geffet (Bar-Ilan University) and Gila Prebor (Bar-Ilan University): "Towards an Ontopedia for Hebrew Manuscripts"
Leonor Zozaya (Coimbra University): "Educational Innovation: New Digital Games to Complement the Learning of Palaeography"
Share on Twitter
Share on Facebook