DigiPal at Guthlac of Crowland conference: Thursday 10th- Friday 11th April 2014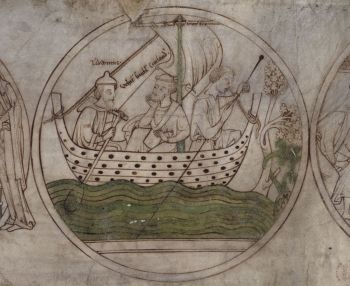 In an astounding feat of bilocation, DigiPal will represented at the 'Digital Palaeography: Projects, Prospects, Potentialities' at Università Ca'Foscari in Venice on Thursday and Friday this week (as previously reported), and will also be celebrating 1300 years of Guthlac of Crowland at Senate House in London.
While the above image from the Guthlac Roll (British Library, Harley Roll Y. 6, roundel 4, c. 1210) is the closest that participants at the Guthlac conference are likely to get to a gondola (which is not very close, it has to be admitted, as it's nothing like a gondola), consolations on offer include papers from Andy Orchard, Catherine Clarke, Chris Voth and Tim Bolton (amongst a host of others). The DigiPal paper will take as its focus the fragment of the Vita S. Guthlaci in British Library, Royal MS 4 A. xiv, exploring terminology for describing letter-forms.
But if you can't wait until Friday morning to see images of the manuscript, then it's now on-line on the DigiPal site: http://www.digipal.eu/digipal/manuscripts/1051/descriptions/?s=1&terms=royal+4&result_type=manuscripts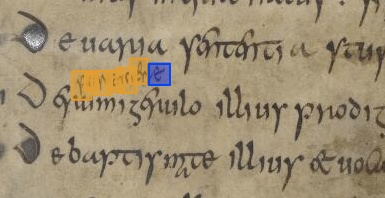 Full details about the Guthlac conference are available here: http://www.ies.sas.ac.uk/ies-conferences/Guthlac
I look forward to seeing readers of this blog later in the week; that is, if there are any who are not in Venice. O sole mio...
Share on Twitter
Share on Facebook