Latin Palaeography Autumn School, Ghent
The University of Ghent has just announced its Autumn School in Medieval Languages and Culture for 2014, this year with parallel classes in Latin Palaeography and in Medieval Liturgy. Quoting from the flier:
This Autumn School is organized for MA and PhD-students in Medieval Studies ... who are required to work with handwritten medieval documents in Latin or with liturgical sources and texts containing liturgical quotations or references. ...

For the course on Latin Paleography, students need to have already a basic knowledge of (classical) Latin grammar and vocabulary. For the course in Medieval Liturgy, no previous knowledge is required.

Both courses are delivered in English. Since both courses are taught at the same time, participants can enroll for only one course.
The Palaeography course runs over three days, from Monday 20 October to Wednesday 22 October 2014. It is divided into five parts:
Julia Crick (London): Introduction; scripts of the early Middle Ages
Erik Kwakkel (Leiden): The development of medieval script, 1000–1500
Marilena Maniaci (Cassino): The archaeology of the manuscript book
Peter Stokes (London): Palaeography and the digital humanities
Els De Paermentier (Ghent): Workshop
For further details, including how to apply, please see the full website or the flier below. Any enquiries should be sent to Martine de Reu in Ghent: Martine.DeReu@UGent.be.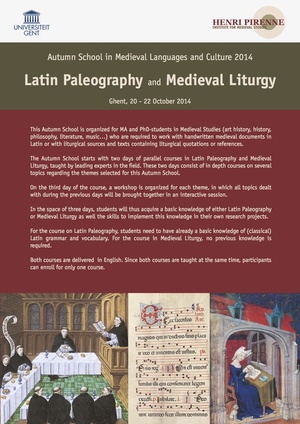 Share on Twitter
Share on Facebook